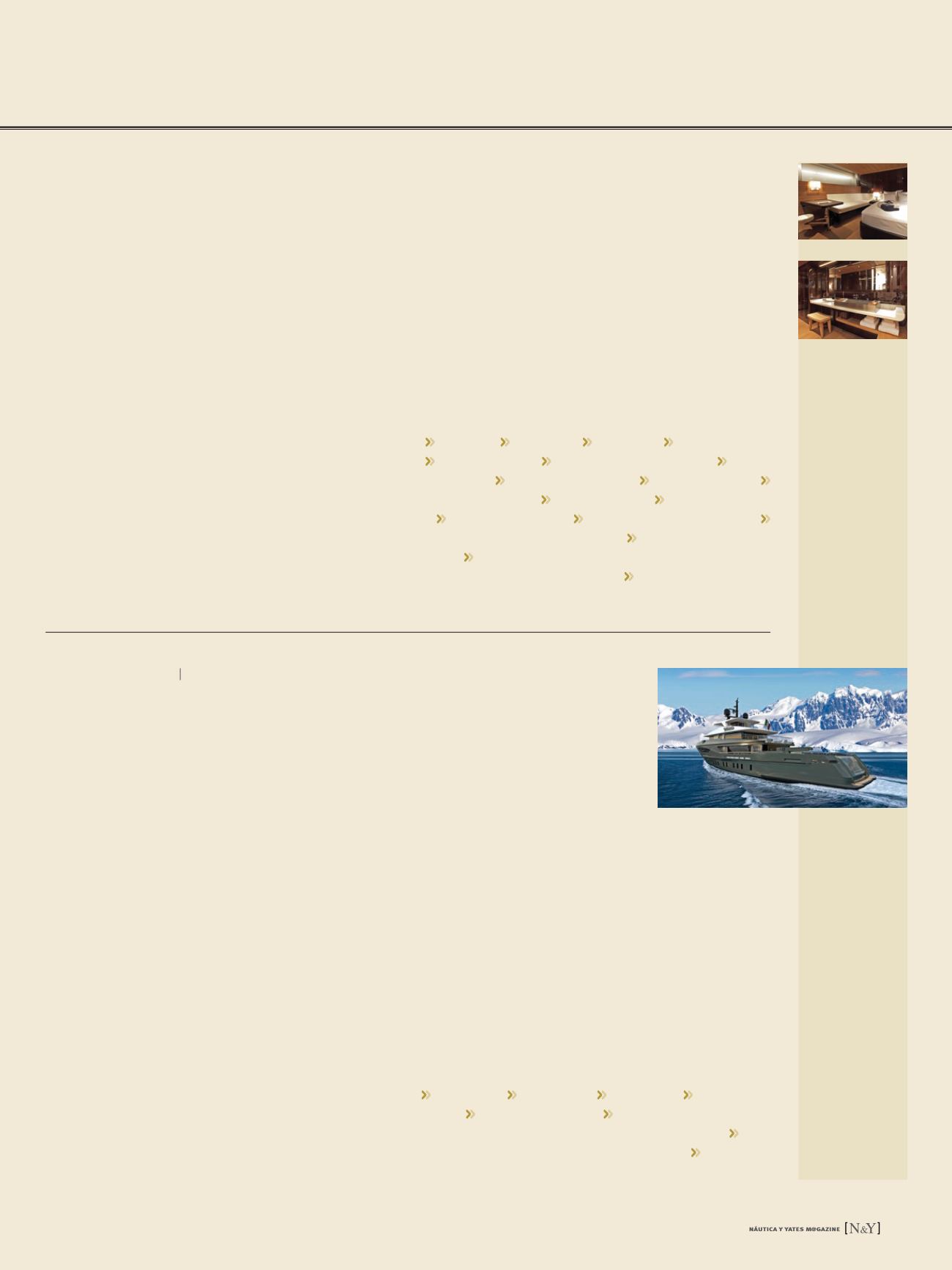 aft cockpits that allow guests to enjoy the open air
in maximum comfort. The fore deck has two 21 foot
tenders wells built flush to the deck and feels like a
large and wide terrace on the sea that offers abundant
spaces for outdoor living.
Aft the transom opens hydraulically and becomes a
platform on the sea, complete with an elegant internal
staircase. The yacht also has a side shell door that is
perfect both for swimming and for boarding or laun-
ching tenders and toys form the lazarette.
Seahawk's interiors where designed by the French de-
corator Christian Liaigre who has created an elegant
and refined ambience that is both modern and marine.
The main saloon has three principal areas, a dining
area, a living area and an office corner, all of which re-
volve around the central staircase. These indoor areas
are separated from the cockpit by a transparent glass
wall and from the pilothouse by a glass wall that can
be darkened. The central staircase leads down to the
cabins and up to the flying bridge. There are four en-
suite guest cabins. The owner's suite is full beam and
has an innovative design solution with double beds
placed facing each other on opposite sides of the ca-
bin. During charters, the cabin can be divided with a
removable wall to become two independent en-suite
cabins for a total of six guest cabins.
In the crew area there is a large laundry room for
washing, drying and ironing while there are also
abundant refrigerators and storage areas under the
deck. The crew area counts five cabins and a Captain's
For the first time on a Perini Navi yacht the aft coc-
kpit can be completely enclosed.
Specifications
LOA:
LWL:
Beam:
Draught
Total sail area upwind:
Mainsail
area
Mizzen sail area:
Genoa area:
Staysail area:
MPS area:
Fuel capacity:
Water capacity:
Main engines:
Naval architect:
Interior designer:
Class and LY2 compliance:
Malta Cross A1 Commercial Yacht-
ing Service Malta Cross AMS, MCA - LY2
Builder:
he Italian shipyard Sanlorenzo, specialists in the
construction of made-to-measure superyachts,
has embarked upon a new project with its first ever
explorer yacht, the 460 Explorer. This type of vessel
is gaining favour with many owners who are looking
for not just speed, but also resistance, space, lower
fuel consumption, excellent range and, above all, the
ability to tackle any weather conditions and to reach
the most distant and unexplored corners of the globe
with total confidence. Conceived for long-distance
cruises with maximum comfort to spend long perio-
ds on board, these yachts, just like the Sanlorenzo
460 Explorer, let you be self-sufficient, spend less,
carry more equipment and an array of water toys, and
arrive where many others can't thanks to a reduced
draught. What's more, explorers behave extremely
well on the sea and are very efficient from an energy
In this sense, the 460 Explorer, classified as Green
Plus, can remain anchored for 48 hours without the
generators being started, thus no emissions, noise or
The as-standard layout provi-
des four guest cabins on the lower
deck and a full-beam owner's sui-
te on the upper deck. It also offers
comfortable crew cabins, as well
as one for the captain on the main
The stern area boasts a large
beach club with bar, sauna and dive space, as well fit-
ness machines, gym and a counter-current infinity pool
up on deck. The main deck is an informal area that
houses the salon, the aft part of which turns into a large
sunbathing and relaxation space. The upper deck salon
can also be fully opened up to enjoy the outdoors.
The Sanlorenzo 460 Explorer, with a Steel semi-
displacement hull and aluminium superstructure, is
powered by twin 1319hp Caterpillar Acerts or twin
1360hp MTUs that deliver a top speed of 15 knots,
and a range of 4,000 miles at 11 knots thanks to the
50,000 litres of fuel she can carry.
Specifications
LOA:
Beam:
Draft:
Fuel capacity:
Water capacity:
Engines:
Caterpillar Acert or 2 x 1360hp (1,000 kW) MTU 8V 4000 M63
Naval
architecture:
Distributor in
Spain: